Welcome to the page of Year 6 - Algeria Class.
Ferring CE Primary School Documentary
Algeria Class enjoyed a fantastic trip to Sky Studios during the Autumn Term. We found out how to perform, produce and edit TV programmes. With our new found proficiency in TV production we have written, scripted, performed, edited and produced our own documentary about life at Ferring Primary School. In groups we each took different aspects of school life and created a short film. We then edited these together to complete an entire 15 minute documentary. We will be sharing this with a school in Egypt as part of our International School work. You can enjoy our efforts below and find out all about life at Ferring. Enjoy!
Weekly Timetable
PE
This year, Algeria Class have PE timetabled for Thursday and Friday afternoons. You will need your kit for these times but it's a good idea to bring your kit in every Monday, leave it in school until Friday and then take it home for a wash. You can leave your kit in school for longer but it's best to take it home regularly to be washed - especially in Year 6. This half term, we will be doing Badminton and Dance in PE. You do not need any additional kit for these sessions.
PPA Time
I will be out of class every Thursday afternoon and Ms Willard will take Algeria Class during that time for Computing and PE (Tennis).
Homework
This term, you will be given 10-Minute Test practice books for GPS, Reading and Maths. Every week, you need to complete a 10-Minute Tests in each of these areas (a total of 3 different 10-minute test practice activities). This replaces the GPS and Maths homework from last term. In addition, there will be a weekly topic activity to complete and spellings to learn. You are also expected to read regularly and make a comment about your reading in your homework diary once a week.
There is quite a lot of homework to do so you will need to be organised. If you need help or extra time, you are very welcome to attend homework club and ask for time at lunchtimes to do homework in school. I can also be available to help you with any tasks you are finding tricky. You need to be responsible, though, for asking me for additional help BEFORE the homework is due. See below for this half term's topic homework list and for weekly homework tasks.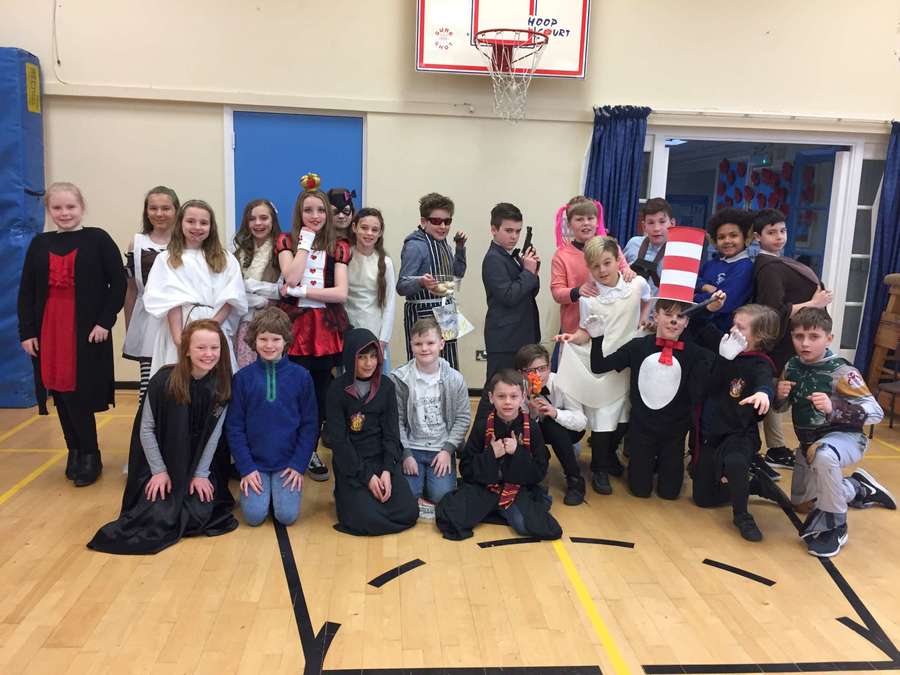 This week in Algeria Class . . . 5/3/18 - 12/3/18
We have mostly been doing:
Investigating the Battle of Hastings in History - why did William of Normandy defeat Harold Godwinson?

Area & Perimeter in Maths - learning how to use simple formulae and how to find the area of a triangle.

Editing and improving our explanatory texts in English.
Enjoying Tennis and Gymnastics in PE.
Above is a photo of us on World Book Day 2018.
Below are photos of our book week and us out in the snow last week :)
Congratulations to our football and netball teams for a win and a hard-fought draw (respectively) against visiting teams from St John the Baptist :) Congratulations also to Luke B, Ella, Thomas, Archie this week's Writing Wall of Fame entries! Don't forget your cereal box for next week's Science activities.
Please find this week's homework on our Homework page here: