Welcome to Barbados Class!
Welcome to Barbados class! I hope you had a wonderful summer holiday and you're
excited about the year ahead, I know Mrs Pratt, Mrs Ballard and myself are.
Google Sites - Our main learning website!
Weekly timetables and tasks for home learning will be detailed on this website. This will match exactly what we are doing at school. This site will outline when you have live lesson and also provide you with necessary links to access your live lessons, task details and resources directly. Google classroom will begin to build up to a long list as the days and weeks progress so please use this website as your main platform to gain knowledge of your day/ week as this will be updated weekly. Also included on this site is a 'Celebrations!' page where I will display brilliant learning from that week from both home and school learners.
You can only access this website with YOUR google classroom login to keep all information and photos
secure and safe from public view.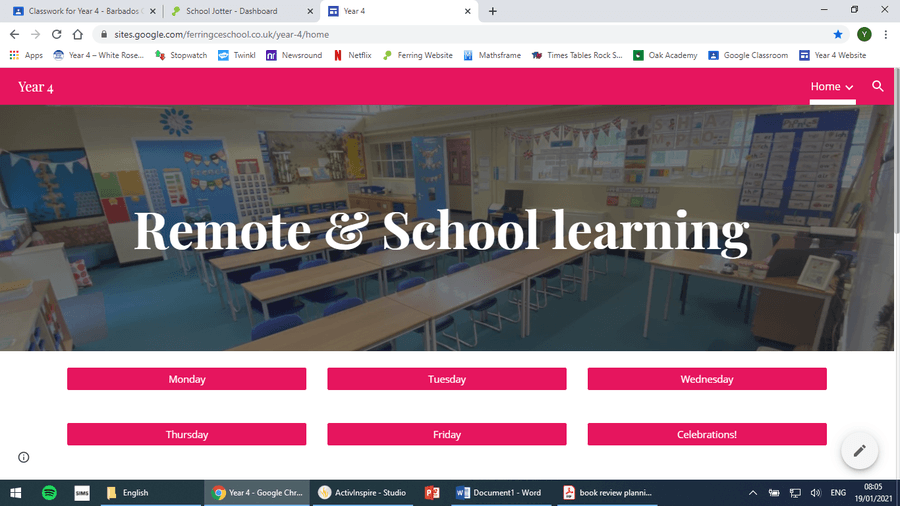 Google Classroom - Our work upload and marking!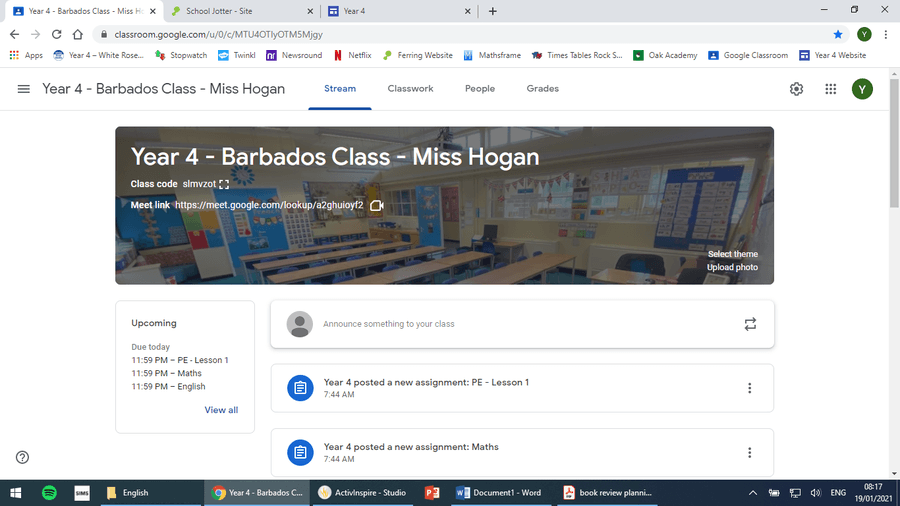 Email - Questions, queries and worries!
If you have any questions, queries or worries, you should contact me directly at: year4@ferringceschool.co.uk
Please note: I will endeavor to respond to emails within 48 hours. Having said this, I will not be able to respond during school hours due to teaching.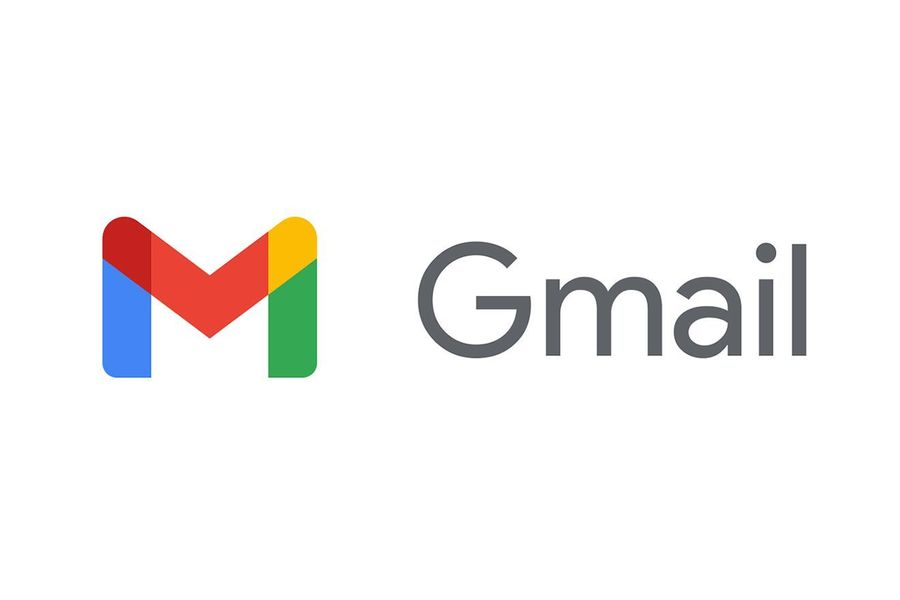 Home Learning Help Videos:
See our Weekly Timetable:
Click here to access our class welcome letter!
Spring Term 1: Topic – Water around the world
Click here to see this terms 'Topic Web'.
Our topic this half term is "Water around the World". We will begin by discovering the difference between water mass such as; Seas, Rivers, Lakes. Following this we will delve deeper by learning about The Water Cycle and how this effects our world. Finally, we will look at and compare our water supply and demand to other countries in Developing Nations.
In English we will be writing gripping news articles which aim to inform the public on water poverty around the world and articulate ways we can help support these countries. We will follow this by learning about a diverse form of written language - Poetry. We will be producing our own Water poetry which includes a range of language features.
In Science we will be looking at 'States of Matter' which allows children to recognise and understand water in 3 different forms of a Solid, Liquid and Gas. We will be conducting experiments and investigations within the classroom during our learning - creating memorable experiences to secure this knowledge.
Following Remembrance Day learning, as a class we worked in groups to create an acrostic poem. We wanted our poem to communicate the respect, admiration, love, and care we have for those who risked/ gave up their lives whilst fighting for our country. We wanted it to detail the selflessness and bravery the soldiers demonstrated each day they battled and also highlight the importance of why we celebrate Remembrance Day still today. We learnt about why we wear and see wreaths of poppies each year leading up to and on the 11th November. We then designed and created our own poppies and organised them into a wreath. Here is our poem and display created.
In PE the class have been working hard to choreograph their own dance routine inspired by our A1 topic, Meet the Greeks. Focusing on the army and battle theme, the class organised their armies by house colours. Within the routine the children ensured they included a range of dance techniques such as; space, shape, dynamics, levels, turns, balance, canon, unison, mirroring and repetition. Please watch the dance by clicking the image below.
Science - Teeth and Eating
In science, we learnt about why we have different teeth within our mouths and the scientific vocabulary for each of these. To demonstrate how we naturally use our different teeth when eating food, I set Y4 the task of eating a piece of apple only using their central incisors. This was great fun! The children loved it and this memorable experience demonstrated the importance and use for each of our teeth.
Multiplication Tables Check
Ferring Primary have subscribed to 'Times Tables Rock Stars' which is a fun, easy to use and personalised way for your child to gain their confidence and rapid recall of all tables up to 12 X 12. The online programme is available through an app or directly through the website. When first entering TTRS, children must complete a 'baseline' test which comes in the form of a 'Gig' game. This will analyse what tables your child is confident/ struggling with by looking at if they got the answer correct AND the speed time it took them to answer the question. Games from then on will adapt accordingly to strengthen the tables your child has shown they are unconfident with. It will continue to adapt, progress and challenge your child as they get better at their times tables. As children play, they will earn points/ coins. The more games you play, the more coins you earn which will place you on the leader board in ranking order. The more coins you earn, the more confidence in your tables you gain - it's a WIN WIN. Children are also able to challenge peers across the entire school to compete against them in a tournament to be the ultimate Rock Star!
To explore further, click the link: https://ttrockstars.com/
Yesterday we had a visit from the naughty elf, Cookie. When we arrived at school he was making snow angels in a bag of flour. Then at break time, we came back to footprints exiting out of our classroom - he had escaped! We were all wondering where he had gone and then after lunch we returned again to a note saying "you can't catch me". Yes we can Year 4 cried! We came up with a plan to catch the elf by inviting him to 'Elf Paradise'... an offer he couldn't resist. We wrote this invitation in a letter along with questions about himself that we wanted to find out. The following morning we had a response from him. However, his cheekiness continued as we had to figure out where his reply was. Using the clues from the riddle he left on Miss Hogan's whiteboard, we cracked the code and found his response in our wallets. That afternoon, we set out to create 'Elf Paradise' to capture this naughty elf so he stopped causing mayhem around the school. Unfortunately, he was too clever and turned elf paradise into Christmas chaos.
Keep checking this page for more of Year 4's Journey with Cookie the naughty elf.
Will we ever catch him?
Will he continue being naughty?
What will he do next?
The endless list of questions goes on...
'The Learning Pit' celebrates when children stumble upon a misconception in their learning. It encourages individuals to persevere and independently climb 'out of the pit' by either recognising their mistake and fixing it OR by researching to find out the answer. Other children or adults may give individuals the tools to help them climb out of their pit. However, the quest will remain on the individual to succeed and conquer their mountain.