Welcome to Simon Philip Class!
Welcome to Simon Philip Class! I hope you have all had a wonderful half term holiday and you're
excited about the term ahead, I know Miss Abbott and I am.
Teacher: Miss Squires TA: Miss Abbott PPA Teacher: Mr Cranfield
Premier Sports Teacher: Miss Martin
Year 4 is named after the children's author Simon Philip. We spent the autumn term learning about our class author and studying some of the books he has written. Pupils created fact files to tell others about our class author and the pupils have written letters to him to tell him all about Year 4 and invite him in to visit us. Simon Philip visited Year 4 to tell us more about him as an author and explore his books.
Please click on the link to visit Simon Philip's official website to learn more about him and the author we are named after: https://simon-philip.com/
Simon Philip has sent the class a gift of books from his series of books based on a wizard called Fred. I will be sharing these books with the pupils in class and can't wait to share these with them!
Thank you!
From,
Year 4 - Simon Philip Class!
Summer 2 Topic – Amazing Rainforests
Our topic this half term is 'Amazing Rainforests'. As part of our study, pupils will be introduced to rainforests around the world. They will learn what they are, where they are, what they contain and who lives there. Pupils will explore the four main layers of a rainforest; find out about the plants and the creatures that grow and live in the different layers and how they are adapted to live there.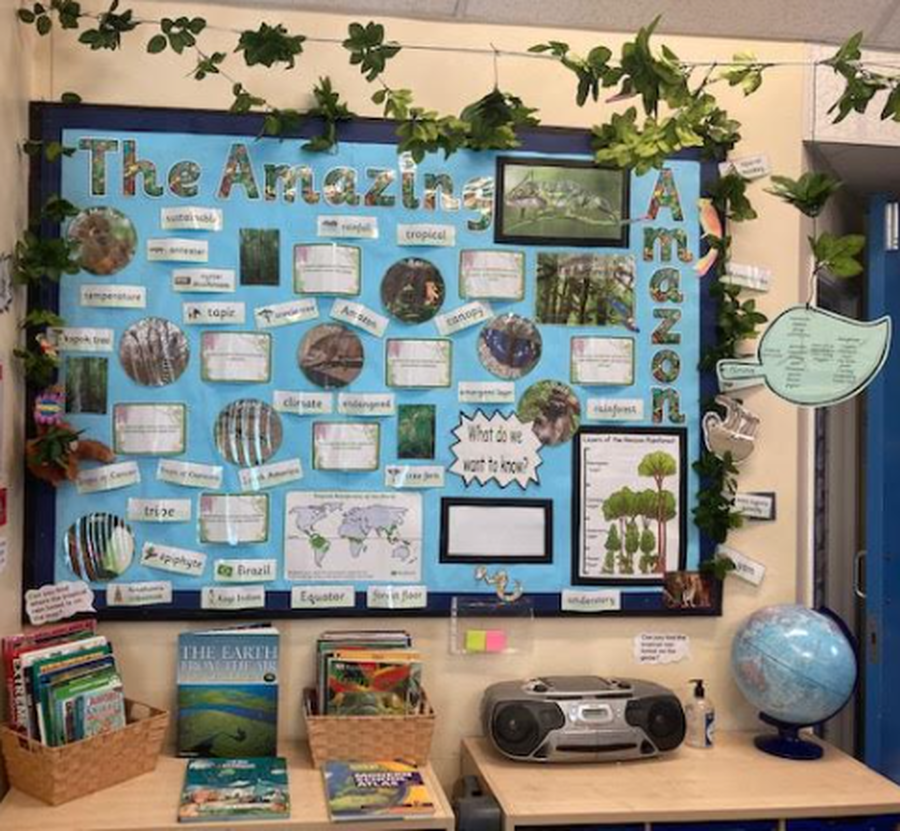 Curriculum Web for Summer 2:
Summer Term 2 Class Letter:
Spring Term 2 Cornet Playing by Year 4:
Here is a video of the pupils playing their cornets in their final lesson for the half term just before the Christmas holidays. The pupils have been learning to play different notes such as C, D and E and they put it all together for this Christmas performance you can view below. We hope you enjoy watching it! We are so proud of you Year 4 and how well you played today, showing all of the skills that you have learnt. Pupils will continue to learn the cornet in the Spring and Summer term and there will be more performances later on in the year to share what they have learnt. Super Cornet playing Year 4!
Pupils in Year 4 will have Cornet lessons this year, taught by Miss White who specialises in Brass Instruments. The children have been enjoying our music lessons and have already learnt how to put their instruments together; how to make a sound using the mouth piece and how to start playing different notes.
We are currently reviewing our homework policy.
Our homework policy is being reviewed at the moment. For now, we ask that pupils read at least three times each week, recording their reading in their Reading Records. We ask that pupils also complete the 'Look, Say, Cover, Write, Check' spelling sheet to help them with practising their weekly spellings. Spellings will be sent out on the Friday of each week and they will be tested on them the following Thursday.
We will also have a Multiplication Test every Wednesday so pupils are also encouraged to keep practising their times tables as often as possible. They can do this using Times Tables Rockstars (https://ttrockstars.com/) and the Times Tables booklets which have been sent home. In June, the year 4 pupils will take the statutory Multiplication Test. The purpose of this test is to determine whether pupils can recall their times tables fluently and to see which pupils need support.
We are continuing with Accelerated Reader https://ukhosted66.renlearn.co.uk/1893036/ and soon pupils will do their
Star Reading Challenge in school to update their ZPD range. This ZPD range helps navigate pupils to books which are at their level. They have chosen a book from their ZPD range and when they have finished reading it they can take the quiz. Pupils should take the quiz within 24 hours so the contents of the book is fresh in their mind. Quizzes can be taken in school and pupils can tell us when they have finished a book and need to take a quiz. We do ask that pupils have completed the quiz on their book before changing it in the library. If pupils are reading a books at home they can check if it has a quiz linked to the book by going to:
https://www.arbookfind.co.uk/UserType.aspx?RedirectURL=%2fdefault.aspx
MyOn: https://www.myon.co.uk/login/ is up and running for the new academic year. This is the online system where pupils can login online and read eBooks and take quizzes on these books too.
We ask that pupils read at least three times each week and record this reading in their diary. I will take in Reading Record Diaries each week on a Thursday to see how pupils are getting on with their reading. Please do let me know if you have any questions related to reading or need help with any of this.
Ferring Primary have subscribed to 'Times Tables Rock Stars' which is a fun, easy to use and personalised way for your child to gain their confidence and rapid recall of all tables up to 12 X 12. The online programme is available through an app or directly through the website. When first entering TTRS, children must complete a 'baseline' test which comes in the form of a 'Gig' game. This will analyse what tables your child is confident/ struggling with by looking at if they got the answer correct and the speed time it took them to answer the questions. Games from then on will adapt accordingly to strengthen the tables your child has shown they are unconfident with. It will continue to adapt, progress and challenge your child as they get better at their times tables. As children play, they will earn points/coins. The more games you play, the more coins you earn which will place you on the leader board in ranking order. The more coins you earn, the more confidence in your tables you gain - it's a WIN WIN. Children are also able to challenge peers across the entire school to compete against them in a tournament to be the ultimate Rock Star!
To explore further, click the link: https://ttrockstars.com/
Multiplication Tables Check
Email - Questions, queries and worries!
If you have any questions, queries or worries, please contact me directly at Class Dojo or I can be emailed at: year4@ferringceschool.co.uk
Please note: I will endeavor to respond to emails within 48 hours. Having said this, I will not be able to respond during school hours due to teaching.
'The Learning Pit' celebrates when children stumble upon a misconception in their learning. It encourages individuals to persevere and independently climb 'out of the pit' by either recognising their mistake and fixing it OR by researching to find out the answer. Other children or adults may give individuals the tools to help them climb out of their pit. However, the quest will remain on the individual to succeed and conquer their mountain.
We hope you all have a happy half term in Simon Philip Class!