Welcome to Singapore Class!
Here on this web page you will find information about Singapore Class, see what it is like in the classroom and find out about our routines along with key curriculum information.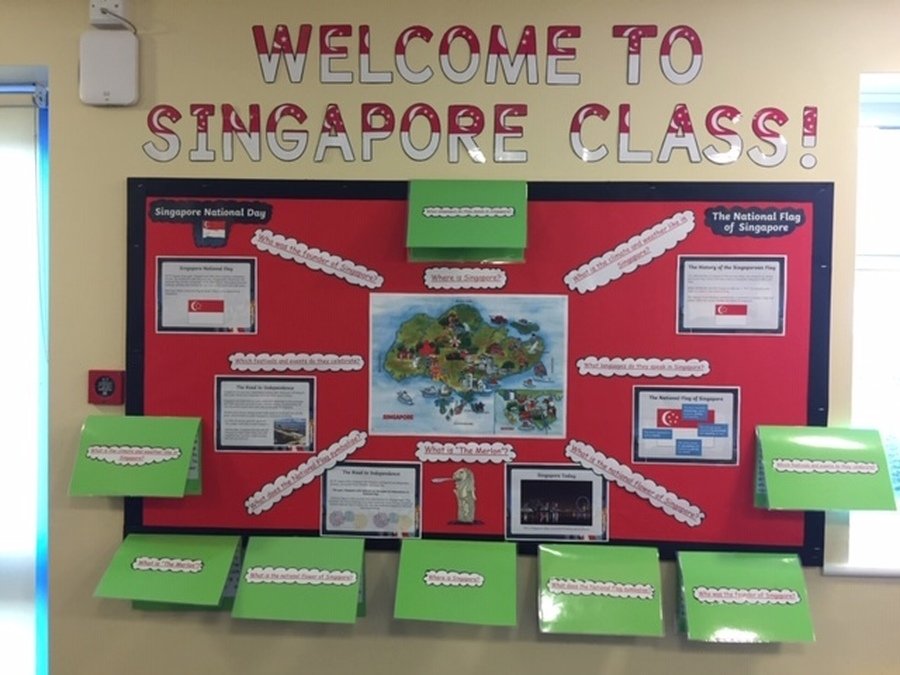 Singapore Class Team:
Class Teacher: Miss Squires PPA Teacher: Mr Ryan Teaching Assistants: Miss Abbott and Mrs Jones
We can't wait to welcome you into Year 5!
Please login to My Maths and complete the activity set based on number skills. Pupils will be sent home with their Homework Books and logins.
Please also login to Times Table Rockstars and complete the times tables activities. Logins have been sent home and are stuck in their homework books. Practising their times tables weekly will help pupils to learn the times tables they have not yet secured.
Home Reading Resources:
All pupils have a Reading Diary to record their home reading each week. We would like pupils to read daily and record at least 5 home reads in their diary, recording the date read, title of the book and the author, the number of pages along with comments from an adult who has heard them read. There may not always be comments but we would like to hear how your child is getting on with their reading skills and if there are any tricky words they come across. Pupils can also give the book a star rating and comment on their reading too.
Below are also some reading activities they can choose to complete linked to the book/s they are reading.
Spelling Homework:
This week we have focused on the /i/ sound spelt with a /y/. Pupils will have stuck into their Homework Books, a 'Look, Cover, Write, Check' spelling sheet to complete to help them learn their spellings which they will be tested on next Friday.
Topic Homework:
Pupils have been sent home with the project-based homework outlined below. To help pupils I have attached some slides which gives them more information about Anderson and Morrison Shelters. Also included in the slides is information about the measures the government put in place to protect the people during the war such as the use of gas masks.
BEGINNING OF TERM PROJECT:
To welcome pupils back into school they will be taking part in a project called 'Here We Are'. Every class in school will be taking part in the project and it centres around the book 'Here We Are: Notes for Living on Planet Earth' by Oliver Jeffers. The aim of the project is to help reunite everyone around one powerful text and one message, easing pupils back into school life with creative literacy learning along with a cross-curricular approach. The whole school unit of work aims to re-establish a sense of community across the entire school, allowing reflection on the last few months, and also helping look forward to the future in a positive way.
World War II Topic Information:
Our topic this half term is World War II. Pupils will learn about the Second World War in Europe and why the Battle of Britain was such a significant turning point in British History. They will learn about the timeline of events such as the outbreak of the war, the Battle of Britain, the heroic rescue at Dunkirk, the Blitz, the D-Day landings and the celebrations of VE Day. During the topic, pupils will research the lives of the ordinary people who faced the Blitz and had to deal with rationing and evacuation. I'm looking forward to telling them about the inspiring stories and achievements of significant people such as Anne Frank and Winston Churchill. Key texts will be used during this topic to inspire writing and link pupils' history knowledge in the context of English.
What is it like in Singapore Class?
Please take a look inside the classroom and look at where your children will be learning.
Subject Specific Information:
Our PE and Homework Timetable:
Monday Tuesday Wednesday Thursday Friday
PE PE
Homework due in Reading Journals Homework sent out
handed in for checking
PPA - Mr Ryan teaching PE
and Computing
Library:
Pupils will continue to visit the library and have the opportunity to choose a book to read each week.
Pupils library day will be confirmed soon.
We hope you have a wonderful half term!