Welcome to Ferring School Games sport!
At Ferring Primary School we take part in regular sporting competitions. Progress in these matches/tournaments can be checked regularly on here, as well as on the Angmering cluster website, which you can find here:
Autumn Term 2018
Angmering Mile
Twenty children from KS2 took part in the Angmering Mile. This included some children from Year 3 who have previously only taken part in the 1/2 mile event. They did particularly well to complete double the distance. All of the children put in a fantastic effort to complete the mile. Well done in particular to the girls who came first in the girls competition and successfully won the trophy. There were some great finishes with Emmeline finishing 1st and Chloe and Florrie in 5th and 6th respectively. We were very proud of all the children for their efforts - well done.
Angmering 1/2 Mile
Seven children from KS1 took part in the Angmering 1/2 Mile. All of the children put in a fantastic effort to complete the 1/2 mile. Well done in particular to our one Year 1 runner, Riley, competing in his first ever 1/2 mile. There were some great finishes with Ted finishing 1st and Jack finishing 3rd. Overall we finished in 2nd place. We were very proud of all the children for their efforts - well done.
MULTI-SKILLS EVENT IN SCHOOL
All of the children in school from Reception to Year 6 took part in a multi-skills sports event. They competed in their colour Houses within their classes in five different activities. The children competed brilliantly and put a great effort into each activity. I would like to say a big thank you to all of the Year 6 children that helped to run and organise the event. They were responsible for setting up the day and the activities, leading each station, timing the event, explaining the rules, calculating the scoring and recording the event on camera. They led with great confidence and support, particularly with the younger children. Well done everyone....and here are the results:
Reception Class winners = Blue House
Year 1 winners = Red House
Year 2 winners = Yellow House
Year 3 winners = Green House
Year 4 winners = Red House
Year 5 winners = Blue House
Year 6 winners = Green House
And the overall school winners were = GREEN HOUSE
Basketball Tournament
Four of our Year 6 children took part in a Basketball tournament at The Angmering School. Six teams competed in a league so we played five games. In total we won two of our games and finished 3rd in the league. It was a great event in which the children, who were not experienced basketball players, demonstrated the ability to take to a new sport, listen to and understand the rules and do their very best. I was delighted with how much they all enjoyed themselves. Well done to Finley, Matilda, Emma and Rebecca. Rebecca was particularly influential scoring all but one of our points. The netball experience of a couple of our players did help us. Well done and thank you to Isabella as well, who came along and cheered on the team (she even took part in our final game).
KS2 Angmering Mile
Well done to the 10 children who braved the elements on a very wet and windy afternoon to take part in the Autumn 2nd half term Angmering Mile event. Both the girls' and boys' teams finished fourth in the competition with Chloe our highest finishing girl in 6th position and Ben our highest finishing boy in 11th position. The children's attendance at this event demonstrates the dedication they have to running which is to be admired.
Spring Term 2019
Chatsmore High School Year 5 5 a-side Football Tournament
We took a girls' and boys' 5 a-side team to a tournament at Chatsmore School.
It was a frantic competition with over 20 games lasting 3 minutes each taking place in the
sports hall.
Both of our teams competed fantastically with the boys playing five games and the girls playing
three games. The boys managed to win two games and draw one, with Ralph scoring two goals
and Ben scoring one. The girls won two games and lost one with Chloe and Jasmine scoring goals.
At the end of the competition the boys finished third in their league and the girls finished second in
their league.
Well done to Chloe, Summer, Jasmine, Louise and Lauren for their second place finish and well done to Nirran, Ralph, Thomas, Ben and Tom for their third place finish.
Swimming Gala
Well done to Emmeline, Emma, Lara, Ben and Sammy, who all took part in a West Sussex swimming Gala. There were 12 school competing and they managed to finish 5th in both the medley and the freestyle relay. Great stuff!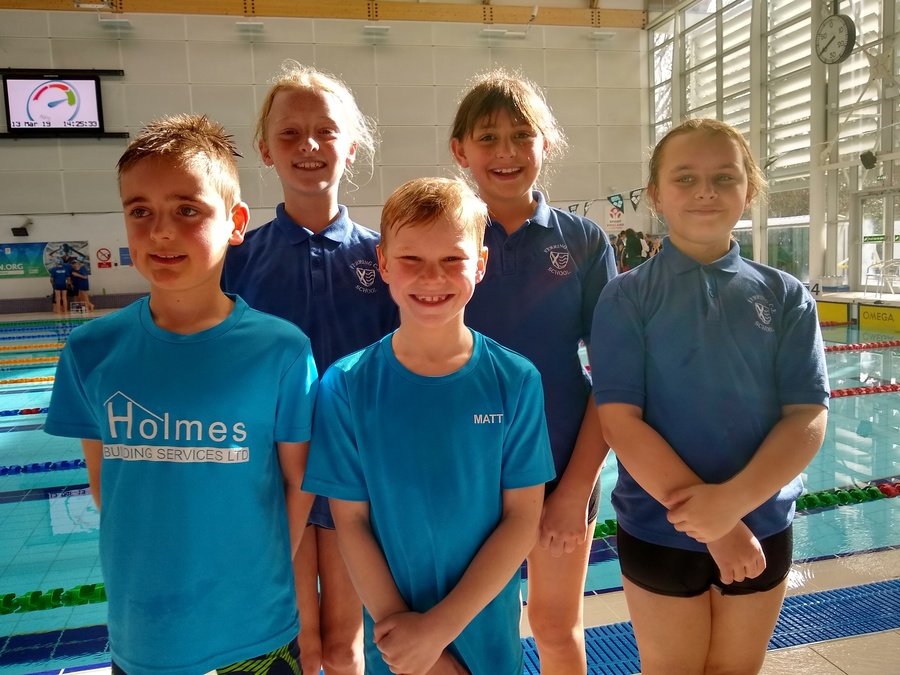 Summer Term 2019
Great Cluster Run
This term has seen all of the children take part in the Great Cluster run. Children in Reception and KS1 had to run constantly for 5 minutes, Y3/4 for 8 minutes and Y5/6 12 minutes. The distance they ran collectively was added up and Mr Gwynn will be letting us know how far we ran in total as a school, how far from Ferring that would have taken us if one person had run that far and how well we have done competing against the other schools in our locality. This means that everyone in school have again competed in a locality event. The in-class competition was very close:
Reception winners – Blue Team
Year 1 winners – Blue Team
Year 2 winners – Yellow Team
Year 3 winners – Green and Yellow Teams
Year 4 winners – Blue Team
Year 5 winners – Red Team
Year 6 winners – Green Team
Thank you to the Year 5 and Year 4 children that helped to run the event by tallying up the runs.
Sports Week 2019
It was been a busy and energetic week during Sports Week at Ferring. Premier Sport were in to run a Netball Day which Years 1-6 took part in and a Rugby Day which Years 3-6 took part in. The children enjoyed taster sessions in both sports. Four children from Years 3 and 4 competed in a locality tennis tournament and managed to finish third. Well done to Mack, Raephi, Freddie and Leo. Some of our Year 5 and 6 children took part in a Stoolball tournament and finished fourth. Well done to Matthew, Tom, Chloe, Ben, Finley, Rebecca, Romany and Lauren.
Our Year 6 Sports Ambassadors have been running a Four Square tournament in school for every child in every class over the last few weeks and the finals were held during Sports Week. Emmeline Turner and Rebecca Roberts planned, led, refereed and carried out the tournament brilliantly and it is very fitting that both the girls received our Sports Personality of the Year awards. Well done to both of you!
The winners of the Four Square Tournaments were:
Reception Class Winner – Elizabeth
Reception Class Winner – James
Y1/2 Winner – Keeley
Y3/4 Winner – Lucie
Y5/6 Winner – Ben
Well done to all of our winners – you will be receiving your trophies soon.
And, of course, we had our School Games Sports Day. Thank you to everyone who attended and cheered the children on during the activities and the races. It really adds to the lovely atmosphere of the event and so many of you have said what a good morning you had, thank you.
Congratulations to Blue House who won the 2019 School Games Sports Day trophy.
To look back at our sporting events during 2017 - 2018 click here.