Home Learning France Class
Dear Parents
The Early Years are a very important time for your child in their development. Children make the most progress when they learn through play. At home, make sure you are providing lots of first hand opportunities to enhance their learning. This could be by model making, cooking, gardening, collecting natural objects, painting, Arts and crafts, cutting and sticking. Read with your child every day, books for pleasure, books of their choice and information books. I will post websites and worksheets for you to access the Early Year Curriculum. Keep in touch with me by Tapestry. Upload photos and observations of your child and I will check it everyday. Keep Safe and have fun with your children during this difficult time.
Mrs. Darkin
You can contact me via Tapestry or reception@ferringceschool.co.uk (please note that I am working in school on Mondays and Tuesdays and so response may be slower on those days)
A big thank you to all the children who have been working so hard.
A special MRS DARKIN's SUPERSTAR AWARD goes to:
Ayla, David, Sebastian, Alfie, Rowan and Amelia
(all counting to 20!!!)
Thomas (writing CVC words)
Finlay (super science learning about sound)
Amelie (great learning in the garden)
Elsie (working hard at her phonics)
Friday show and tell
Monty: great police car
Joseph: fabulous Elmer model
Sebastian: super colouring
Finlay: thanks for showing how to paint pebbles.
To show pictures email them to me reception@ferringceschool.co.uk (I cant show tapestry photos)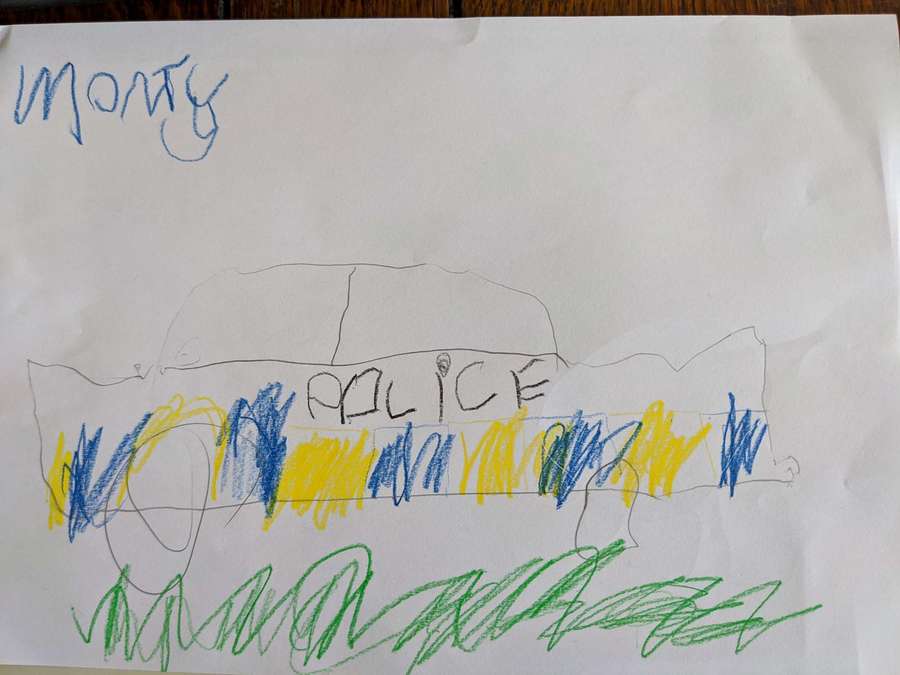 Please have a look at BBC Bitesize and The Oak National Academy for some great Reception class lessons.
Week Beginning 27th April 2020
Maths
Still counting to 20 and beyond. Use everyday objects, stones , twigs, leaves to show you can get 20 objects.
Can you use 20 Lego/Duplo pieces to make a model?
Click here for counting to 20 resources.
Number of the week is 12. How many ways can you make 12? Can you write 12? What comes before 12 and what come after?
Click here for I spy resource.
Click here for cut and stick number to 20.
Literacy
Our new topic: PEOPLE WHO HELP US
This week we would be looking at the role of the Police. What do they do? What do they wear? How do they help us?
Click here for Police words
Click here for role play resources
Click here for a model to make
You could use these pictures to label and write about. I can see a ......... He/she has a ......
ART and DESIGN
This week we would look at a French Artist called Cezanne.
Take a look at some of his work here. See how you can be an artist. Can you paint fruit just like Cezanne? Use paint, chalk, felt tips or pencils to get different results.
I look forward to seeing your Cezanne style pictures.
KNOWLEDGE AND UNDERSTANDING
At school we would have begun to plant some seeds this week. We look at what is needed to grow a plant (dirt, sun, water)
We predict what is going to happen to our seeds. We plant one seed normally, one seed that we don't water and one seed we don't give any light to. We check each week to see what is happening.
Click here for a plant diary to fill in
Phonics
This week make sure your child knows the last of the set one sounds ( sh, ch, th, qu, nk and ng).
Then move on to the set two sound ay (may I Play) may, play, say, day, today
See the set two sounds here.
Search on Google for Mr Thorne ay for excellent demonstrations with Geraldine the Giraffe
Also Alphablocks on BBC for great sounding out and blending.
How many words can you think of that have the ay sound in them?
Can you spot any ay words in a book?
Common Words
This week make sure your child knows these common words. Both to read and write. Make some flash cards or put them in a sentence to recognise. More able children will be able to write their own sentences.
has
you
your
be
he
me
Teachers Pet HOME LEARNING
Try these from the Teachers Pet website
Reading
Lots of Parents have recommended The Reading bugs app as suitable for Reception children. It is free to download at the moment and looks really good.