E-SAFETY
**COVID-19**
E-SAFETY SUPPORT IF YOUR CHILDREN ARE HOME LEARNING
Whilst there are huge benefits to being online in order to stay connected to family and friends during, we recognise many parents may feel concerned about the activities and content their children are accessing.
It is important to have regular conversations about staying safe online and to encourage children to speak to you if they come across something worrying online.
The images below are links to websites and resources that provide guidance for parents and carers to keep children safe online. THESE WEBSITES ARE RECOMMENDED BY THE DEPARTMENT FOR EDUCATION. Click on each image to visit the websites. They will, amongst other things, support you to talk to your child about a range of online safety issues, set up home filtering in a child-friendly way and set up age-appropriate parental controls on digital devices:
ThinkUKnow by National Crime Agency-CEOP (Child Exploitation and Online Protection) provides resources for parents and carers and children of all ages to help keep children safe online.
Childnet has developed guidance for parents and carers to begin a conversation about online safety...
...as well as guidance on keeping under-fives safe online.
Parent Info is a collaboration between Parent Zone and NCA-CEOP, providing support and guidance for parents and carers related to the digital world from leading experts and organisations.
NSPCC has guidance for parents and carers to help keep children safe online.
UK Safer Internet Centre provides tips and advice for parents and carers to keep children safe online
E-SAFETY IN SCHOOL
Children at Ferring use the Internet on a regular basis as part of their learning. Technology enhances learning and at Ferring we want to ensure that pupils get the most from it, by encouraging responsible online behaviour.
In school we use a filtering system to prevent children accessing inappropriate sites. We also have 'e-safety' activities to remind children of the importance of keeping themselves safe online. E-safety issues are embedded within the Computing curriculum and every year group acknowledges and encourages safe and sensible use of the internet and new technologies.
We take part in 'Safer Internet Day' in February every year and all the classes enjoy activities which raise awareness of e-safety.
At home, sometimes children can be given unsupervised access to the Internet. This, potentially, allows them to access all kinds of society (both good and bad) and bring them virtually into their homes.
***REMEMBER***
WhatsApp announced an age limit of 16. Nearly all other Social Media services require users to be at least 13 years of age to access and use their services. This includes Facebook, Twitter, Instagram, Pinterest, Snapchat and Tik Tok. YouTube requires account holders to be 18, but a 13-year-old can sign up with a parent's permission. The YouTube Terms of Service state that "the YouTube Website is not intended for children under 13".
Therefore, none of the children at Ferring CE School should be using these forms of social media as a way of communicating with friends. If they follow these guidelines they will avoid other significant worries that can present themselves as a result of misuse of social media.
We have these e-safety posters on display in our classrooms. Why not put one up next to the computer at home and talk about it with your children?
Click to edit container
/ 1
Click to edit container
/ 1
e-safety advice
There are a number of web sites available to parents that will help you understand the constantly developing world of technology and in particular how to keep your children safe on line. Below are some links to web sites we know can offer great advice on how to protect your children on line so that they can enjoy the opportunities that modern technology allows them in a safe and secure way. The e-safety of your children is everybody's responsibility.
There is also a useful guide to keeping your children safe online produced by the West Sussex Safeguarding Children Board. Click HERE to view the guide.
It's that time of the year again! On Tuesday 11th February our children got involved with a number of activities during the day to continue to highlight the importance of e-safety and to encourage conversation about how to use technology responsibly, respectfully, critically and creatively. They had lessons in their classes to focus on the 2020 theme of 'Exploring Identity Online'. As well as this, there were opportunities to contribute to whole school activities. All of the children created their own 'This is me' bunting to represent what they like doing online and to share ideas about how to stay safe. Some children also had the opportunity to visit our Safer Internet Day 'Diary Room' where they could respond to questions in order to educate their audience about online issues and online identity. There is some fabulous thoughts and advice so make sure you watch both our videos below. As usual, the children showed a very strong understanding of the expectations of Primary school aged children online - but of course, they need your help! Do remember to read and adhere to the advice provided above to ensure your children enjoy nothing but positive experiences in our digital world.
All the children in the school once again took part in Safer Internet Day on Tuesday 5th February 2019. They took part in different activities focusing on the theme for SID 2019 which was 'Our Internet, our choice: Understanding consent in a digital world'. In KS2 the children looked at the importance of consent and permission online and the consequences of not having this on themselves and others, as well as the idea of choice and respect online. In KS1, with the help of the characters Zap and Zoom, the children thought about things they can do online and what they need to ask permission for, as well as how to make good choices online. All the children engaged brilliantly with the activities and have a good understanding of how to behave online. Some examples of the work they produced can be seen below.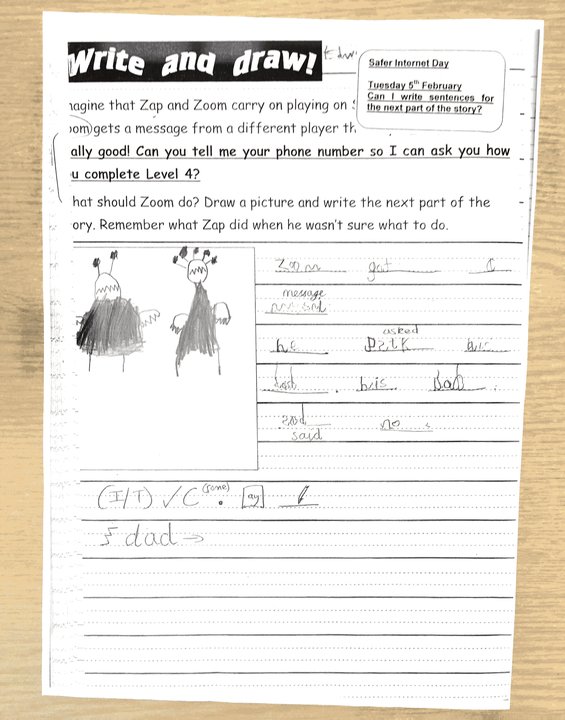 All the children in the school took part in Safer Internet Day on Tuesday 6th February 2018. They enjoyed a variety of different activities focusing on the theme for SID 2018 which was 'Create, Connect and share Respect: A better Internet starts with you'. One of the activities involved the children drawing or writing a pledge on a jigsaw piece about how they will contribute to making the internet a happier, safer place. As a school we built the jigsaw to show our commitment to e-safety and sensible use of the internet. You can enjoy a short film of the creation of the jigsaw below.
As part of the Year 5 Computing Curriculum Singapore class spent part of the Spring and Summer term developing their own website. The class became the 'Ferring Safety Super Heroes' company and the children formed different departments. Each department specialised in a different area of online and e-safety issues. They carried out research and put together information they though would be valuable to other children and their families. With Mr Ryan overseeing things as Managing Director they inputted their research on the website, designed the layout, links, colours and text to present the information in an engaging and interesting way. They worked extremely hard on the project and should be very proud of what they produced. Please follow the link below to check out and enjoy their work.
https://ferringy5.wixsite.com/safetyheroes
Click below to see the work of a previous Year 5 class who became the 'E-Safe Tips 4 Kids' company a couple of years ago.
ferringy5.wix.com/esafetips4kids